Who doesn't love donuts? And who doesn't love Krispy Kreme donuts?!
Krispy Kreme let you buy donuts from them at a discounted price so that you can sell them on at a cake sale for a profit and put that money towards your target.
How does it work?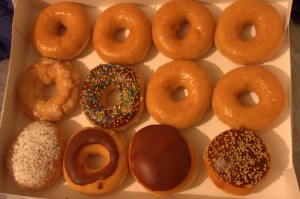 You can buy a dozen donuts from Krispy Kreme for £4.50 and sell them on at £1.35 per donut, giving you £11.70 profit per dozen that you sell.
That means sell 6 dozen donuts and make over £70!
All you need to do is decide how many donuts you would like to order and place the order online (at least two weeks before you want the event to take place), once this is done they will contact you to confirm your order.
You will need to pick up the donuts from your local Krispy Kreme store so make sure one is close to you or you have a car to get to a local store to pick them up!
What next?
Set up a stall on campus or at school and get selling! If you have siblings or relatives that are still at school you could also get them to hold a sale for you! You could also make your own cakes to add the sale to, and help raise even more money!
Advertise your event on Facebook & Twitter and see if you can get your Student Union or other societies to tweet or message students about the cake sale too.
…Time to get selling!