Meet our Greater Manchester 10 kilometre runners, who are running to raise money for VESL… Join us in wishing them good luck! The event is taking place on Sunday 18th May, if you would like to join then just send us an e-mail ([email protected]) and we can put you in touch with the other runners! You can also find out how to sponsor any of the runners below!
Issy Goode
"On the 18th of May I'm setting myself the big challenge of completing the Bupa Great Manchester 10K run. Initially, I was going it alone, which felt pretty daunting, but nonetheless I slipped on my brand new trainers and thought 'it's all to help get me to Thailand'. As volunteering in Thailand is one of the craziest things I've signed up for in my life, I thought I'd make 2014 the year of challenges. Running is a challenge for me for the simple fact that I've always hated it. I never saw the point in running when walking was much more logical to me! I live Cornwall, with such beautiful scenery that I couldn't understand why I'd want to speed past it all. But since I started training, spending countless days in the gym just waiting for the weather to warm up a bit and the rain to ease a little so I could run outside, I've found a passion for running and discovered that it's actually surprisingly enjoyable. And now I have a team of VESL volunteers joining me in the Manchester 10K, I feel so ready to run it so that people understand I'm willing to challenge myself to help drum up support for my summer project in Thailand.
After all this fundraising, and when I finally get overseas, I'm most looking forward to the involvement I'll have with an entirely different culture. I'm excited to try new food, pick up some of the language and experience a completely different lifestyle to the one I know here in England. I truly hope that I leave Thailand having given something to the community that will probably teach me a lifetime worth of knowledge."
You can check out Issy's Just Giving page here.
Samantha Betteridge
"Hey, I'm Sam and I am going to Thailand in July as part of the VESL team. So far, I have fundraised via social networks and have held a bake sale at my Uni but now I am going one step further, and running the 10K Great Manchester Run, with a team of other volunteers! I should probably mention that I am not really a runner at all – the biggest distance I've ever done is 5k. So, this is most definitely a challenge as it's double the distance!! However, it'll be definitely worth it if I can raise money for VESL in doing so!"
You can check out Sam's Just Giving page here.
Laura-Louise Mahler
My name is Laura and I am so excited to be going to Thailand for six weeks in July. The challenge of heading overseas to volunteer in a continent I've never been to is amazing and topping it off with the challenge of fundraising for this incredible charity is even more thrilling. As part of this, I will be taking part in The Great Manchester 10k! Running is endurance, aching and demanding and definitely isn't easy for anyone, but the push and motivation of doing it for a cause so worthwhile makes the pain a little easier to bare! Working hard for something that will help even maybe just one child makes it even sweeter.
You can take a look at Laura's Just Giving page here.
Holly Fisher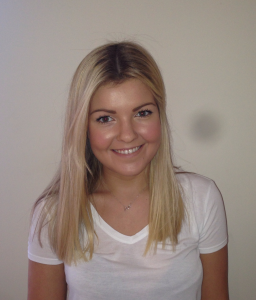 I'm going to Northern Thailand in June for 6 weeks volunteering with VESL. As part of my fundraising I'm running the Bupa Great Manchester Run on 18th May with a few other girls going. Running is a challenge for me as it's only recently I've started to try and keep fit. I've never run a distance of 10k before, so training for it is going to be tough! But I'm certainly up for the challenge!! Hopefully I can complete it in a good amount of time too – I don't want to be one of the last to finish…
I can't wait to go over to Thailand, not only to experience the culture over there, but to hopefully have a positive impact of the lives of those living there. It will definitely be a huge difference to my everyday life, with trying new food and living in a completely different culture, and it's my first time leaving this country for such a long time. I really hope that I can help the charity to make a huge difference!
You can check out Holly's Just Giving page here.
Rebecca Abbott
My name is Rebecca. I will be going to Thailand for 4 weeks starting on the 7th June to assist in teaching English to children. I have decided to run the Bupa Great Manchester 10k run because I have never done something this strenuous and physically challenging before. I do play badminton however this does not mean I am in any way fit. Therefore, running continuously for up to one hour will be extremely difficult for me. I am looking forward to pushing myself and hopefully achieving something that I would never otherwise think I was capable of. What will get me through the run is knowing that the money and effort is going to a good cause, and the thought of going Thailand will encourage me to continue.
I am most looking forward to the enthusiasm of the children and the chance to help influence and change these children's lives. I am going to enjoy every minute of learning about a different culture and they live and are brought up. Whilst also hoping that they will impart some valuable knowledge that will help me change more people's lives in the future and make a difference. Thailand is going to be the best experience I will have ever had and if it means running 10k to get there, I will do it!
Rebecca's Just Giving page can be found here.