Ola is another of our Volunteer Co-ordinators, she will be heading out to Thailand this summer with her team of volunteers. Last year Ola spent four weeks in India with VESL teaching English in a primary school, check out her advice on going overseas below.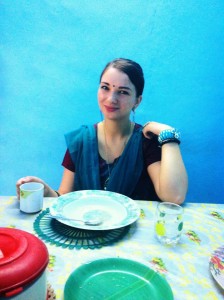 I'm in my second year of LLB (Law) at MMU. Last year I went to India with VESL for 4 weeks on the project and another 2 weeks bag packing down the west coast. Before that I only travelled within Europe to countries such as Malta, Italy, Turkey and few others. I really like curry, therefore loved India where I got it for breakfast, lunch and dinner. I don't like mess and that makes me very organised. So far I have planned to fundraise through a "dress down" day at work, where we have to dress smart all week. I will also do a cake sale at the uni and see where I go from there.
What is the one thing you wouldn't go overseas without?
I wouldn't go without a good book or 10, especially if flying alone!
What is the one thing you would advise volunteers not to pack?
Excessive amount of toiletries, they only weigh the baggage down and it turned out I could get most of them in the city near by the project. (Still bring some, just not a lot!)
If you could give one piece of advice what would it be?
While out there remember that you might not get an opportunity like that again so enjoy it as much as you can. It will either be a good pub story when back in the UK (no matter how distressing or embarrassing it will end up being funny) or a good lesson and most of all a memory!
What are you most looking forward to?
I'm most looking forward to meeting my (new) family, seeing their way of life and forgetting about the UK reality while out there.
My first lesson.
Our first lesson was really well planned and we planned far too much just in case. It went really well, me and my project partner were shocked! We decided to  make our first lesson about the difference between "good morning", "afternoon" and "evening" with different times. We drew a lot of clocks on the board and whoever got the greeting right would get a sticker. Then we moved onto the responses to "How are you?" as everyone was responding with an automatic "I'm fine thank you". We showed them that there were other options such as "I'm good" or "I'm happy". That was far more difficult than anticipated!
What was your most memorable moment as a VESL volunteer?
My most memorable moment was when my family took me and Becky (project partner) to Shangumugham beach at sun set. It was really good to have some bonding time with them and their friends. It was such an emotional day that made me realise how happy people can be even in disadvantaged communities. And when we got back my host mother was giving me loads of cuddles and said she didn't want me to go back to the UK!
What was your favourite food?
My fave food was fried fish or egg curry (don't judge before you try it!)
Do you have any tips for travelling at weekends?
I can only advise on India as I haven't been to Thailand yet! Kanyakumari, Kochi and the house boats would definitely be the places to visit.
What was your biggest challenge?
I'm a really private person so I found the lack of personal space quite difficult. Every time I'd sit in my room for longer than 10 minutes on my own my family would get really worried and think that I was unhappy! I had to tell them whenever I needed some "me time" that I was going to my room for a while and exactly what I was doing. It calmed them down a bit!