Victoria Will recently graduated from Nottingham University and spent six weeks this summer volunteering in a school in Chiang Rai with her volunteer partner Tata. Victoria has written a great blog about her experiences of staying with a host family, from her initial nerves to a tearful goodbye at the airport!
Please note that not all host families have the facilities that are described in this blog post, the host families that volunteers stay and live with vary from very basic accommodation to more Western style accommodation. 
Having never undertaken a teaching project abroad or lived with a foreign family before, I think it is fair to say that I was slightly anxious for what the project and home stay would have in store for me!
After I landed in Chiang Rai Airport I was greeted by some of the VESL management team along with the other volunteers, including my volunteer partner to be! From the airport we were then taken to a nearby hotel for the night. At the hotel, my partner (Tata) and I spent the evening getting to know each other and the other volunteers. We discussed what we thought our host family and school would be like. What would our new home be like? What would our sleeping arrangements be? How good would our host family's English be?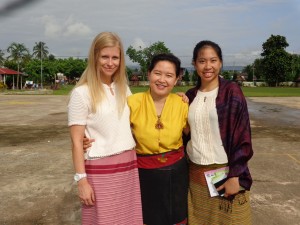 Our suspense was short lived, the next day after a morning of training our new family came to the hotel to collect us! I was really excited and curious to see what they were like, of course a little nervous too!
When our Host Parents arrived it was time for me to use the traditional Thai greeting (the 'wai': bow with palms together, as if praying) for the first time! Unfortunately in the excitement of it all, I completely forgot about the greeting and went to hug my Host Mum! Immediately I felt embarrassed, but luckily my Host Mum was kind and hugged me back, finding it more amusing than anything!
The Host Families receive training as well as the volunteers, so she was probably expecting me to do something stupid!
My Host Parents introduced themselves as Patcharee and Chouchart (names that I immediately forgot!). Luckily for me my Host Mum told us we were to call them 'Mum' and 'Dad'. Much easier to remember! 'Mum' is the English teacher at my school and could speak English well, while 'Dad' is the school Director and could speak basic English. Dad still tried his best to improve his English during our stay, always looking to Mum for the translation into English for me!
After leaving the hotel, we stopped off at the local market to buy what we wanted for dinner, and then we went to the 'White Temple', the first of many visits to the amazing Buddhist Temples of Thailand!  Just before dinner time we arrived at our new home in Sanchumpa, Mae Suai District.
I was pleasantly surprised to find that my new home was lovely! It had 2 bedrooms, 2 bathrooms and an open plan living room/kitchen. Mum showed Tata and I to the room that we would share, the large double bed in the middle of the room was where we would both sleep. Tata and I liked sharing our room, although the bed was a lot harder than I was used to! I was told that it is also normal for Thai people to sleep on 'mats' on the floor. Having always been lucky enough to sleep in a bed, it did not sound appealing. However when Tata and I went with Mum and Dad to visit their sons in Chiang Mai, we slept on mats and it was actually quite comfy!
Before long Mum was calling us for our first dinner in Sanchumpa. Everyday she would cook us fresh and delicious Thai meals, and continually feeding me as much rice as I could eat! In the evenings we would occupy ourselves with reading books, writing in our diaries and watching TV. Mum had the 'Gossip Girl' box set, which we quickly watched all of! The house didn't have a computer or Wi-Fi, but there was a computer with Internet at school, so we could keep in touch with people at home.
Every morning Mum would prepare us breakfast, traditionally Thai people eat rice for breakfast. For me, it was a bit of a struggle to eat a plate of rice at 7am in the morning! Luckily Mum also offered me an amazing variety of fruits, thanks to her I think I pretty much tried every fruit going in the area! Dragon Fruit, Mango, Mangosteen, Pineapple, Rambutan, Pomelo, Guava, I loved them all!
Towards the end of the project, one of our students invited us for dinner at her house. The student lived in a very traditional wooden house, which was on stilts. She shared a small room with her older sister, together they slept on a mattress on the floor covered by a mosquito net. It was really interesting to see the students' house and get an idea of how she lived, I would recommend any future volunteers to take up any opportunity to explore and get to know the local community more. Seeing my students' house made me realise that although my host parents live a modest life compared to many in the western world, a lot of Thai people do not have a 'western' toilet or hot showers in their homes.
For me, one of the things that made the project unforgettable was the kindness and generosity of my host parents. When they instructed us to call them Mum and Dad at the start, I did not think that they would treat us like their own children! Mum would continuously buy Tata and I extra treats from the market, and took the time to learn our favourite foods (for me, my favourite fruits!). Once she even bought me a pair of trousers, and Tata a skirt from the market! Mum helped us to get as involved in school life as much possible, at her suggestion we often stayed after school to help the kids who were keen to improve their English more. Meanwhile Dad gave us lifts to various places at the weekend, to save us having to get the rather unreliable local bus! Quite often he insisted on taking us in the car to school, which was only a 5min walk down the road!
As I mentioned, one weekend they took us to their sons' house in Chiang Mai and took us to any sights that we wanted to see. Spending the weekend with them was a really great bonding experience and I would recommend spending at least one weekend with your host family. What better way to explore the country than with locals!
I think it is safe to say Mum and Dad went above and beyond their responsibility as host parents. When they took me to the airport at the end of the project, it felt a bit like I was leaving my family back in England! Mum and I couldn't help but get a bit tearful as well!
Amongst other things, I hoped that by living with a host family I would gain a great insight into Thai culture and traditions. I never considered I would find a second family!