Pauline volunteered with VESL in September last year for six weeks in Kerala, India. Pauline has very kindly written up parts of her diary to share with other people who are interested in volunteering with VESL, or who are already going overseas to India and want to get more of an idea about what it's like! Check out the first instalment below about initially arriving in India, and make sure you check out her next instalment tomorrow about her first week!
Satuday 22nd September 2013.
Arrived in Trivandrum at 03.00 and made my way out of the airport. OMG!! Its HOT. Robinson was waiting for me with my name on a piece of paper. Promptly started to blub. Can't believe I am actually in INDIA!!!!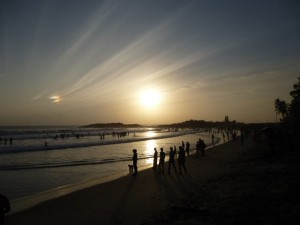 What followed was a very fast and furious and rather scarey rickshaw journey from the airport to the hotel in Kovolam – about 25 minutes from airport. It was the dead of night and pitch dark, there being no street lights , anywhere. The driver looked about 15 but said he was the main income earner for his family and that he was 19. I was very glad he knew where the brakes were as the roads were littered with potholes which were more like the grand canyons and barely any lights on the other vehicles. I was clinging on for dear life and asked Robinson if ever these autos were known to tip over!! ('Absolutely not' was the correct answer I was looking for!). We arrived at the hotel about 4am local time in the pitch black with the only light coming from nearby lighthouse to light our way, or not…yes it was, no it wasn't! All we could hear was the roar of the sea. It was obviously very close by!
I didn't appreciate my bag was so heavy but fortunately the rickshaw lad and Robinson half carried, half dragged it for me along, what would turn out in the daylight, to be shockingly bad 'paths'! The hotel which VESL had booked us into was a pleasant surprise, basic with no a/c but a functioning fan, double bed and an en-suite with sit on loo!!…phew! I managed to grab about 4 hours sleep then awoke abruptly to a loud knocking on the door. Apparently, in broken English earlier when I  arrived, the hotel man thought I'd asked to be woken at 10.am (as if!!) however , getting up then meant I met up with the other volunteers ( Kerry and Katherine, Olivia and Lara), who are adorable and are keeping me young(ish!)!!
We then then spend the day getting to know each other and (unsuccessfully) avoiding the numerous sellers-of-anything-that-can-be-sold-to-tourists men and women. I bought 3 sarongs (all lovely but I didn't need 3), and a fresh pineapple, which afterwards I thought I had been ripped off, but I wasn't going to argue as she had a huge knife to cut the skin off! It was delicious and became known as Pauline's Pineapple!
A few hours was then spent lazing in a nearby hotel pool overlooking Arabian sea (not the hotel VESL had booked us into as it didn't have one. Tip… ask at a hotel that does have a pool to use theirs and for a nominal fee ( about £2) you can spend the day at that pool), life doesn't get much harder than this!
First Sunday and after lunch we were off to the villages where we were staying and to meet our host families, about 30 minutes south of Kovalam. We were unsure what facilities/families would be like and were feeling anxious but excited…….!!
Check back tomorrow for the second instalment from Pauline's diary!