This volunteer feedback was sent to us by Jo Taylor whilst still on a 6 month project in Sri Lanka during 2007.
Background
This long term project was within the hills of Ratnapura district in Sri Lanka. The village itself was roughly 12km from Ratnapura town and local buses ran through the village half a dozen times a day. Our mid/long term projects are similar to our short term projects; volunteers live with a family in the local community in a homestay placement and work with a nearby primary or secondary school.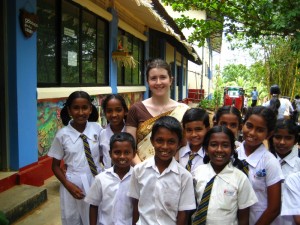 "I've so far completed 12 weeks of my six-month placement in Sri Lanka. I'm working as a volunteer teacher in a local Primary School in Rathnapura district. My timetable is very flexible by necessity, so I can be teaching from two to seven hours a day. I attend the full school day from 7:30am to 1:30pm and frequently take after school classes. When I'm not teaching I liaise with staff, make lesson plans and resources etc, but usually I've got classes. I take a mixture of class lessons and English Club lessons.
"I've thoroughly enjoyed my placement so far and am finding working with the children really rewarding. It is important to be patient, flexible and well prepared because I do not have a fixed timetable. I don't find this to be a problem because it means I can be of the maximum use to the school if I'm prepared to take any class on short notice. This would have been a bit daunting if it had happened when I first arrived, but now I've settled in, and know all the classes, it is not a problem.
Classes
"When I started my teaching placement, I was with a short-term volunteer. We began teaching near the end of the school term so teachers had some free time to give us their classes for extra English lessons. We started by taking 40 minutes class lessons individually and then started the English Club during the school day when children had free time. There are two or three English Club Groups in each year from a mixture of classes. Groups were 30 to 40 children selected from the year group by the class teachers. We taught the English Club together for one to two hours in the English Activity Room. This was a bare room so there's space for songs and games and general moving around and we could put up posters and things on the walls.
"During the school vacation, I worked for two of the four weeks, the first with the short-term volunteer and the second after she'd left. There was between one and four English Clubs per day, for one to two and a half hours, using the groups established in the previous term. Attendance was very good, though occasionally affected by heavy rain. With the start of the new term, teachers again have a strict curriculum to keep to so I can't take children from their lessons. For this reason, English Club is now held after school in the English Activity Room from about 2pm until 3:30 or 4pm, again attendance for this remains high. Children at all levels of ability are encouraged to take part in English Club. During the school day I predominantly take the lessons of teachers who are absent (there are usually a few each day because of the size of the school). I usually have between two and six classes per day, each 40 minutes in duration. When asked to take a class of an absent teacher, I teach my own lesson plans rather than their class work because it is reliably short notice. (There is one day in particular that was an exception to the above outline. Most of the teachers were on strike and I was in charge of Grade 5, all 96 of them! It gave me a lot of confidence to realise I could manage that.)
Focus of Lessons
"I teach independently rather than assisting in other teachers' lessons and I don't use textbooks. My main aim is to focus on developing speaking and listening skills. Reading and writing are more the focus of the regular English classes. Thus, I've found that students' reading skills usually outstrip their level of comprehension or what they can vocalise. I also try to supplement what the children are doing in their English lessons with the other teachers. By consulting with the English teachers, I find out what topics are currently being covered and plan games and activities around the existing syllabus. Another thing I hope to cultivate in my classes is the students' confidence in their spoken English.
Conclusion
"All of the teachers have been enthusiastic and supportive. They are always there to help me to arrange classes, inform the children, give me helpful advice and are good company. They understand the benefits the students can receive from a native English speaker and are eager to make the most of this opportunity. I think this project is an excellent site for future volunteers. The staff members have expressed their interest in receiving more long-term volunteers and have suggested a year long voluntary placement would be ideal for them.
"The school is quite large with 1000 plus students from Year 1 to Year 7; so there is always plenty of work to be done and it's nice to be able to teach a range of age groups. The presence of an English Activity Room is another positive aspect of this project because I can have my own space to teach and put up posters and displays of work as I wish. Another positive factor for me has been the high attendance for English Clubs after school and in the vacation. I think this reflects the real enthusiasm shared by the teachers and parents about the benefits of learning English."
– Jo Taylor, VESL Volunteer 2007, Sri Lanka (on placement at time of writting).