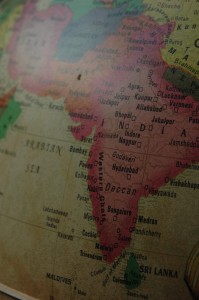 I am very lucky as I am off on an adventure this summer with VESL. I am spending seven weeks overseas visiting VESL projects, I will spend a week in both Sri Lanka and Thailand and I am also a Student Leader for the India programme. I leave on Sunday and have just got back from the shops where I stocked up on all the essentials. I can't quite believe that the time has come around so quickly, it doesn't seem like that long ago that I was in India (I only got back last December!) but I am unbelievably excited to go back and can't wait to see my host family and students again!
I am in Sri Lanka for the first week, I will be visiting the VESL projects where volunteers will be placed in September and will also hopefully be able to visit some new schools to expand VESL's Sri Lanka programme in the coming year. I will then head to India and meet my team of volunteers, settle them into their host families and projects for the first week or so and then I will be able to teach again, which is exciting (and slightly scary!). I will also help them the volunteers with any support they need when they are out there. In my last week I will head to Thailand where I will visit our volunteers in Chiang Rai and see the amazing work they have been doing over there!
I have raised £1144 for this trip and would like to thank everyone that has donated money to VESL, it has been a HUGE help! I will be updating the VESL blog, Facebook and Twitter pages regularly while I am away with updates from our volunteers and the projects – so stay tuned!!