Katie Desmond and Stacey Smail are two volunteers from Edge Hill University, here they reflect on what a typical day looked like at their project in Thailand. 
A typical day teaching starts with a 6 o clock wake up followed by breakfast with your host, usually something traditionally Thai, so don't be expecting cornflakes! One of our favorite aspects about the school is the tradition they have each morning as the opening to their school day. The school band performs their schools anthem and the Kings song. Always remember to stand, wherever you are in school, as the King is a very respected man. All the students sing along, especially the noisy kindergarten children, and once again you feel the sense of community within the school. First lesson starts at 8.40 but what happens next depends on your timetable and how many lessons you are teaching that day.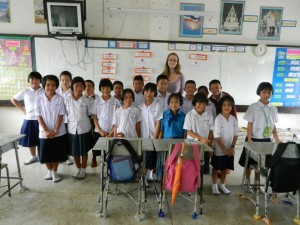 You will have time to plan your lessons before and at this school we had great access to resources (including internet and printing) so here you will not struggle with making the lessons as fun and educational as possible. Lunch is always served from 12-1pm; food is a huge part of Thai culture which you will soon discover. This means lunch is always a varied and interesting experience, don't be scared to try new things, they take pleasure in seeing you try everything. Thai food can be very spicy but don't be worried as they will tell you if something is….'Pet'=Spicy or 'Mai Pet'= not spicy.
Lessons resume in the afternoon with school finishing at 3.30pm, however there is always something happening after school so take your time to get involved with the children's activities. We have found they are always eager to get you involved and join in the fun. Then you will enjoy tea with your host family, however this is normally quite late on around 7/8pm.
The time of year we have come here coincides with many religious holidays, religion is a huge part of Thai culture and don't be surprised if they expect you to join in however they respect we are of different religions and will not be offended if you politely decline.
Free Time
The weekends are your own! However, you are a special guest in your host's family and they will probably have already planned a few activities they would like to do with you. We would advise you go with them as they will show you things you would never otherwise see. For example we got taken to a Thai professional football match with the teachers which was one of the highlights of our trip!
Get involved with the culture and take every opportunity that comes your way as not only does it combat homesickness, it will create memories to make this one of the greatest experiences of your life!
Other than that you are free to explore the north of Thailand, so get yourself off because there is so much to do and see that will contribute greatly to your experience. We often found ourselves being able to discuss our weekends with the children, which makes a great lesson plan, as they are often pleased that we are exploring their country and it creates some common ground from which conversation can readily be made.
In your own time away from your host family you are free to wear your own clothes especially in the tourist cities as the culture is relaxed and expects tourists. However, like the school week, when you are with your host family at the weekend it is politer to dress in a more conservative style. This shows respect and will help you blend in with the culture-remember this is one of your aims with this project.
Katie Desmond & Stacey Smail, Thailand 2012