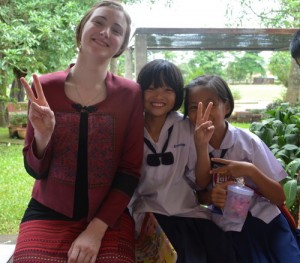 Heading to Thailand and don't know any Thai? Don't worry we are here to help, check out our handy list of basic words below!
Remember the Thai language has lots of different tones, so the same word said with different tones means different things, the words below are written how they sound. However the best way to learn any language is to practice with the locals. Don't be surprised if local people laugh when you try speaking Thai, they aren't laughing at you! They will be surprised that you have taken time to learn some basic words.
There are different words depending on whether you are male or female, for example 'I' for a male is 'pom' and for a female is 'chan'. 'Krap' in a sentence is used if you're a male and 'ka' if you are a female.
Hello – Sawa-dee-krap/ka
Thank you (male/female) – Kob Khun Krap/Ka
How are you? – Khun sabai di mai?
I am fine thanks (male) – Pom sabai di krap
I am fine thanks (female) – Chan sabai di ka
My name is … – Chan cheu…
Nice to meet you – Yin dee tee dai rue juk
Toilet – hong nam
Shower – ab nam
Eat – gin
Drink – deun
Food – ahan
Tasty – aroy (you will be popular if you use this one!)
I am full thank you – Pom/Chan im leu krap/ka
I don't like it – mai chob krab/ka
Water – nam
I don't know – mai ru
I am sick – Pom/chan mai sabai
Numbers
1 – neung
2 – song
3 – sam
4 – si
5 – ha
6 – hok
7 – chet
8 – pet
9 – kao
10 – sip